SHELTON FIREWORKS
CATALOG
PRICES MAY VARY BY LOCATION. PRICES DO NOT INCLUDE APPLICABLE SALES TAX.
EL TORRO'S 300 SHOT SATURN MISSILE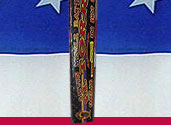 This 300-shot missile by El-Torro just keeps firing and firing with its noise and whistling along with colors really flying. It's as long as a baseball bat and a load to pick up. Price $14.95 each.