SHELTON FIREWORKS
CATALOG
PRICES MAY VARY BY LOCATION. PRICES DO NOT INCLUDE APPLICABLE SALES TAX.
EL TORRO'S BLUE JIN HOTS (A 500 gram load)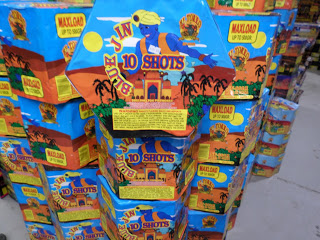 Shoots 10 shots of alternating whistle and crackling tails to big round blue palm and crackling willow. Ends with 3 rapid shots. A must for your crowd's enjoyment. Price $42.95 each.