SHELTON FIREWORKS
CATALOG
PRICES MAY VARY BY LOCATION. PRICES DO NOT INCLUDE APPLICABLE SALES TAX.
YOU CALL THAT A FIREWORK? (A 500 GRAM LOAD)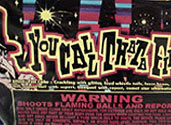 121-shot fan cake, crackling with glitter, loud whistle tails, laser beam, crackling tail, comet tail with report, bouquet with report, comet star alternating effect. A super grand finale. Price $72.95 each.