SHELTON FIREWORKS
CATALOG
PRICES MAY VARY BY LOCATION. PRICES DO NOT INCLUDE APPLICABLE SALES TAX.
BIG MOROCCAN MADNESS (A 500 gram load)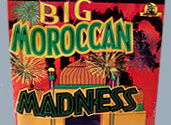 Really does a number of things. It shoots 16 shots of red and green stars with tails, reports and whistles. There is something for the fireworks showman in this one! Price $29.95 each.