SHELTON FIREWORKS
CATALOG
PRICES MAY VARY BY LOCATION. PRICES DO NOT INCLUDE APPLICABLE SALES TAX.
FANCORE (500 gram loads)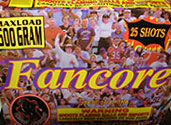 25 shots red tail to white glittering with crackling, green tail to crackling chrysanthemum, blue tail to titanium flower with crackling. Ends with rapid shots red and green tail to red and green chrysanthemum magic balls. Price $39.95.