SHELTON FIREWORKS
CATALOG
PRICES MAY VARY BY LOCATION. PRICES DO NOT INCLUDE APPLICABLE SALES TAX.
WELCOME TO THE JUNGLE (500 gram load)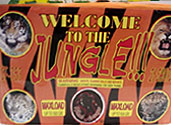 21 shots blue/crackling bouquet, brocade crown, blue pearl/golden strobe, red crackling pearl,
chrysanthemum with bangs, green crackling pearl, blue crackling coco, chrysanthemum with crackling coco. Fan shaped mine then colored layer effects. Price $44.95 each.