SHELTON FIREWORKS
CATALOG
PRICES MAY VARY BY LOCATION. PRICES DO NOT INCLUDE APPLICABLE SALES TAX.
MR POWDER (500 gram load)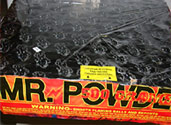 230 shots of spiral cake, assorted color stars with crackling and bangs. Every 20 shots, the stars change colors. Finale with 3 rolls of 10 rapid shots of red, white and blue, reports and crackling. A super grand finale. Priced at $79.95.