SHELTON FIREWORKS
CATALOG
PRICES MAY VARY BY LOCATION. PRICES DO NOT INCLUDE APPLICABLE SALES TAX.
BURNIN' RUBBER (A 500 gram load)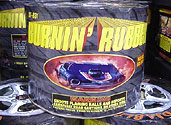 19 shots of fiery reports with yellow caution flags as the race has to wait till the track is cleared of dangerous parts. Our racing fans will want to take one of these. Good choice! Price $39.95 each.